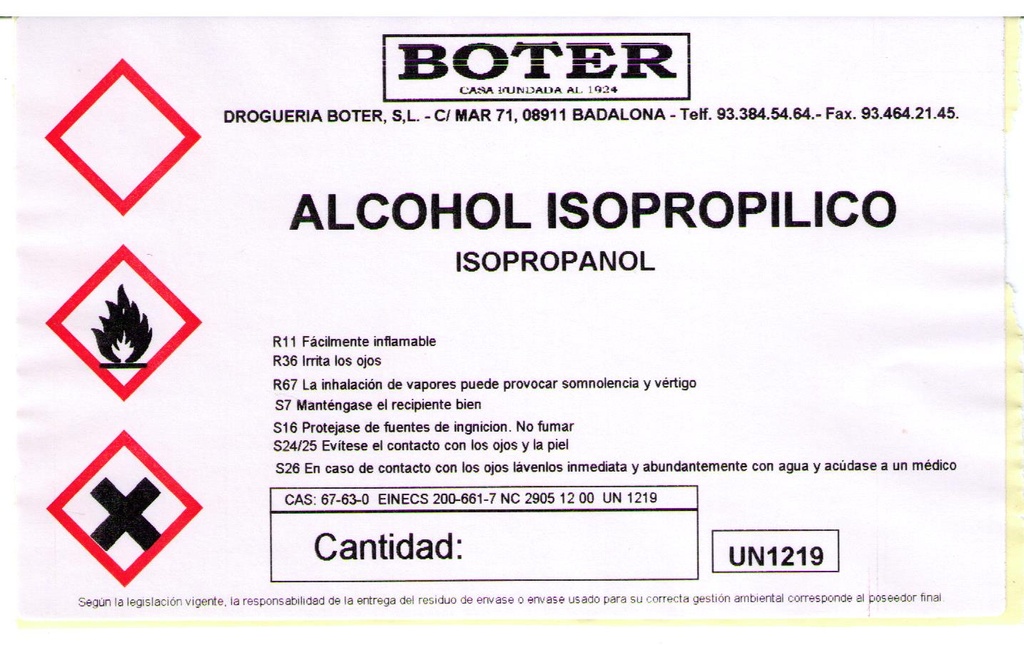 ALCOHOL ISOPROPÍLICO (ISOPROPANOL) BOTER
---

---
30 day money back guarantee

Share this product:
Palabra de advertencia: PELIGRO
Indicaciones de peligro:
H225 Líquido y vapores muy inflamables.
H319 Provoca irritación ocular grave.
H336 Puede provocar somnolencia o vértigo.
Consejos de prudencia:
- Prevención: P210 Mantener alejado de fuentes de calor, chispas, llama abierta o superficies calientes. No fumar.
- Respuesta: P303+361+353 En caso de contacto con la piel (o el pelo): Quitarse inmediatamente las prendas contaminadas. Aclararse la piel con agua o ducharse. P304+340 En caso de inhalación: Transportar a la víctima al exterior y mantenerla en reposo en una posición confortable para respirar. P305+351+338 En caso de contacto con los ojos: Aclarar cuidadosamente con agua durante varios minutos. Quitar las lentes de contacto, si lleva y resulta fácil. Seguir aclarando.
- Almacenamiento: P403+233 Almacenar en un lugar bien ventilado. Mantener el recipiente cerrado herméticamente.
- Eliminación: P501 Eliminar el contenido y el recipiente de acuerdo con las normativas locales, regionales, nacionales e internacionales.


Size

500 ml

o

1 L

o

5 L

o

25 L
This is a preview of the recently viewed products by the user.
Once the user has seen at least one product this snippet will be visible.
Recently viewed Products