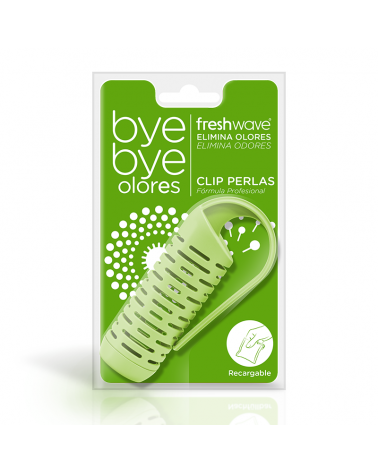 FRESHWAVE PEARL CLIP RECARGABLE ABSORBE OLORES
---

---
30 day money back guarantee

Share this product:
La fórmula freshwave® contiene moléculas activas que atrapan y eliminan las partículas del mal olor y contiene agua y extractos naturales de lima, hoja de pino, anís, clavo y cedro.
Funcionamiento: las perlitas de freshwave® se evaporan en el ambiente y absorben y eliminan las partículas de mal olor. Es un producto seco, no moja.
Usos:
- Bolsas de deporte y taquillas de gimnasio: eliminan el olor a humedad y sudor constante en estos espacios.
- Bolsos, maletas y bolsas de viaje: evitan olores desagradables.
- Cesto de la ropa sucia: atenúan los olores que desprenden las prendas sucias.
- Cubo de la basura: colocar en el espacio en el que guardamos el cubo de la basura para impedir que el olor se propague.
- Zapatos y zapateros: eliminan el olor a cerrado y pies.
- Cajones: tu ropa y pertenencias estarán libres de olores desagradables.
- Otros: espacios pequeños y poco ventilados en los que sea difícil eliminar el olor o prevenir su aparición.
Contenido: 6 Packs de perlas Neutralizadoras de olor freshwave®

This is a preview of the recently viewed products by the user.
Once the user has seen at least one product this snippet will be visible.
Recently viewed Products