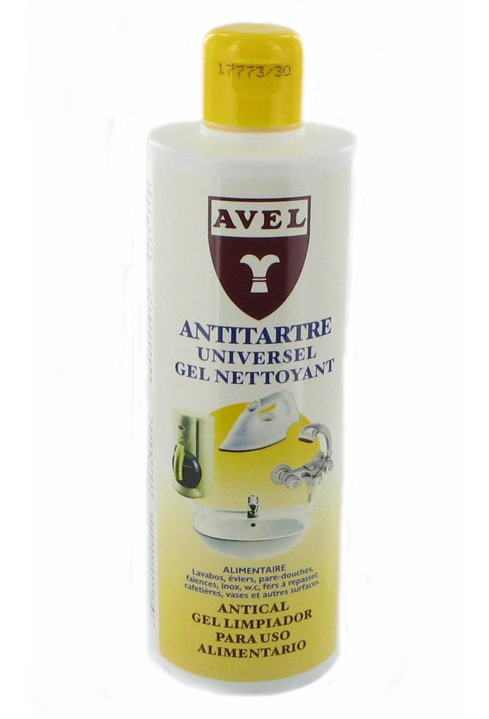 GEL ANTICAL RECARGA AVEL 500 ML.
---

---
30 day money back guarantee

Share this product:
Gel Anti-Cal Liquido Avel es un producto con una mezcla especial de ácidos,(con agentes neutralizadores y agentes penetrantes), no siendo peligroso para la piel
Gel Anti-Cal Liquido Avel tiene una efectividad remarcable sobre todas las zonas en las que exista la cal y las manchas amarillas que se forman por encontrarse en contínuo contacto con el agua.
Gel Anti-Cal Liquido Avel que limpia y elimina manchas amarillas y de cal de los wc, lavabos, fregaderos, porcelanas, planchas, cafeteras, jarras.
UTILIZACION:
Para eliminar las manchas amarillas o de cal, mojar la superficie con Gel Anti-Cal Liquido Avel y dejarlo actuar unos minutos, a continuación aclarar la zona con abundante agua. Repetir la operación en caso necesario
Para los depósitos de la plancha de vapor, mezclar 1/3 del Gel Anti-Cal Liquido Avel con 2/3 de agua fría. Poner la plancha de pie (posición en seco) e introducir la mezcla por la abertura de llenado, evitando que el Gel Anti-Cal Liquido Avel no se derrame por los lados. Ponerla en posición de algodón y calentar la plancha 3 minutos aproximadamente. Dejar escurrir en plano. Colocar de nuevo en la posición de vapor y dejar recalentar 30 minutos aclarándola varias veces.
Para las cafeteras eléctricas, cacerolas..., llenarlas con 1/3 del Gel Anti-Cal Liquido Avel y 2/3 de agua fría, dejando calentar unos 30 minutos a 60º. Aclarar con abundante agua.
Sobre las bañeras y fregaderos, se recomienda realizar una primera prueba en una zona poco visible por posible reacción del Gel Anti-Cal Liquido Avel sobre la zona provocando un empañamiento.

This is a preview of the recently viewed products by the user.
Once the user has seen at least one product this snippet will be visible.
Recently viewed Products